Camping on the Gower Peninsula has become a holy grail for many adventurous Brits looking to escape to the rolling waves and hills. Being brought up on the Gower Peninsula, my early days were all about being by the sea, in the sea, or on the sea – the ocean breeze and sandy shoes.
My happiest memories are of me and my dad sailing across Langland Bay, listening to Phil Collins singing 'It's just another day for you and me in Paradise' or Chris Rea's 'Drivin' home for Christmas'. I even spent a few summers working at Eddy's Bistro at Hillend campsite on Llangennith beach, which was nice.
I'd surf to my heart's content in the day and relax with friends at night. We would indulge in cold vanilla Mr Whippy ice-creams and drink warm cans of beer around driftwood fires. They were spirited and care-free times and I'll never forget them.
So, with perhaps a little too much nostalgia and biased opinion, here are the best 5 campsites on the Gower Peninsula in South Wales. The list is based on countless personal experiences as a local, and I also asked my friends for their input, which I've also included. Lush!
1. Hillend Campsite, Llangennith, Gower – The Surfer's Dream
The Good Bits: Plenty of space for everyone, the family fields are seperate from the 'normal' fields. The shower block is outstanding and Eddy's Bistro (the on-site cafe/restaurant) is ideal for breakfast, lunch and dinner. There's even a little shop to buy BBQs and the other essential camping supplies that you already bought but left at home.
But what really makes this campsite rock, is that it's situated right next to Llangennith beach. Best-known for its incredible surf conditions, it's ideal for all abilities and ages. Surf lessons are also available.
The village of Llangennith is quaint and traditional. The King's Head is the best place to hang out (actually, it's the only place) and is only a mile or two away from the campsite.
The Bad Bits: The countless awards won by the campsite, beaches and local areas mean that you'll be hard pushed to find a more expensive campsite in the UK. Often with a minimum stay of 2 or 3 nights, a short camping trip can end up costing a small fortune. Bookings aren't taken so many a family have turned up after a gruelling journey, only to be turned away because the site is full.
Elizabeth Layne from somewhere over the bridge said: "Hillend! no explanation needed. Best cafe and 2 mile stretch of beach only walking distance. Free spirited fun times! Those were the days!"
Georgie Van de Poll from Swansea said: "Hillend everytime! Beach in walking distance, surf, great amenities, awesome memories and best of all the drunken walk from Kings Head."
More info on prices and facilities at their official site > www.hillendcamping.com

Llangennith 040712 from Tom Maurice on Vimeo.
2. Oxwich Camping Park, Oxwich, Gower – Good Old-Fashioned Family Fun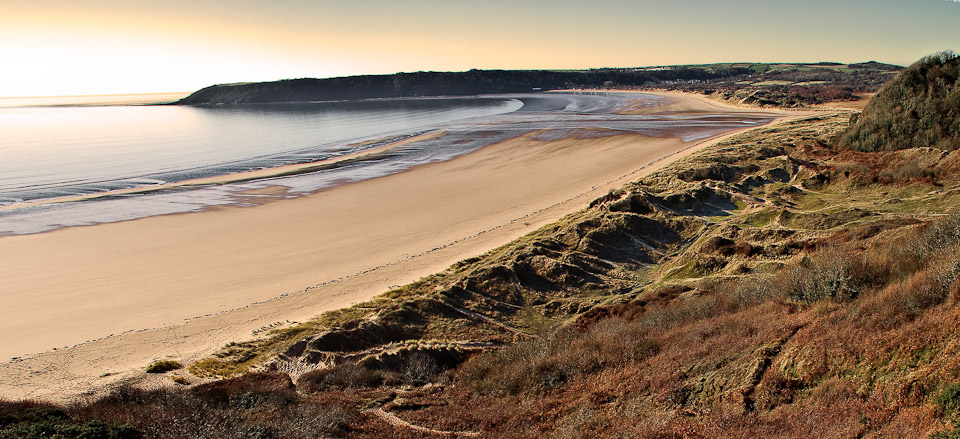 The Good Bits: Lush green forests perched on bouldered cliffs, hidden churches and water sports galore. Oxwich is somehow different to the rest of the Gower Peninsula. I really can't explain why, but it is. The village itself is like an old painting, with thatched cottages and timber frames, small post offices and local supply stores that sell buckets and spades. Oxwich Camping Park is a small, friendly family-run campsite which markets itself as  a great place to experience the outdoors with the family. They're not wrong. Only a ten-minute stroll from the beach, the campsite is simple but well-equipped. Although, the heated outdoor swimming pool adds an element of pizzazz!
The surf gets pretty good here when there's a big swell, which is rare in the summer months. But you can always rent a kayak and explore the cliffs, or try your hand at the latest stand up paddle boarding craze. Oh, and the Oxwich Bay Hotel is everything you could wish for from a beachside pub. Views that will blow your mind as much as the traditional pub-grub menu!
The Bad Bits: It's not as well equipped as some of the bigger campsites, but it's not as busy either, so it balances out. The area is geared towards families so peace and quiet can often be interrupted by screams of sugar-induced insanity and sleep-deprived parents. But I guess the same could be said of most campsites on the Gower Peninsula.
Samantha Jayne Hopkins from Swansea said: "I'd say Oxwich, easy access to the beach and the children can cool off in the swimming pool at the end of the day."
More info on prices and facilities on their Facebook page > www.facebook.com/oxwich.campingpark
3. Pitton Cross Campsite, Rhossili, Gower – Whatever You Want from Wales
The Good Bits: Pitton Cross Campsite offers a lot of bang for your buck. Located just outside of the village of Rhossili, it's close enough to all the action whilst maintaining an atmosphere of tranquillity. Solid facilities and very reasonable prices.
Yes, you have heard of Rhossili beach before. As well as being protected as one of Britain's first areas of Natural Outstanding Beauty, it also won the title of "10th Best Beach in the World" in 2013. The vast Jurassic cliffs stretch out into the ocean, offering vertigo-inducing views over the galloping waves and dancing surfers below. Seals and dolphins can be seen prancing in the transparent waters below, playing water polo with the vicious jelly fish that turn up from time to time.
The village of Rhossili offers a couple of good places to eat and drink. Be sure to check out The Bay Bistro for something a little bit extra special, and if you want to try a spot of surfing, be sure to talk to Sam at Sam's Surf Shack which can be found on the rear terrace of the bistro. In fact, the clean, sheltered waves of Rhossili are ideal for beginners, but also great for longboarders, especially when the swell is big and blown-out at other less sheltered Gower surf spots.
The Bad Bits: Pitton Cross Campsite and Rhossili in general require a good pair of walking legs. This becomes increasingly apparent when one tries to venture down the steep steps to the beach. But then again, if you're looking for an easy way to wear out the kids……
Barrie Hopkins from Swansea said: "Pitton Cross campsite in Rhossili just for Mewslade beach. The walks, surfing and rock jumping."

More info on prices and facilities at their official site > www.pittoncross.co.uk

Rhossili – Gower Peninsula from GaryG on Vimeo.
4. Three Cliffs Bay Campsite, Three Cliffs, Gower – Hike or Climb, Wine & Dine
The Good Bits: Wild and secluded, Three Cliffs Bay can only really be reached on foot. It's an exhilarating walk through forests, dunes and streams – all overlooked by castles and wild animals. The beach itself is popular with rock-climbers and kite-boarders  although it's not the best place for surfing.
Camping here is quite a luxurious affair and you can even rent yourself a small Shepard's Hut or Farmer's Cottage. The views speak for themselves and this is the place I take visitors when I want to show off all that the Gower has to offer.
The Bad Bits: The campsite has a minimum stay of 2 nights at weekends and 3 nights on bank holidays. But apart from that there's not much to grumble about!
Jenna Hiley from Swansea said: "Surely the three cliffs campsite no question. The view is immense and by far the best beach in the Gower in my opinion."
More info on prices and facilties available at their official site > www.threecliffsbay.com

Three Cliffs Bay from Gabriel Van Ingen on Vimeo.
5. Carreglwyd Campsite, Port Eynon, South Gower – Family Time
The Good Bits: Camping doesn't get any easier than this. Lush green fields overlook the beach and gentle waves; there's no need to leave your tent to get the best views. Facilities are basic but do the job. Best of all, it's an easy stroll to the local pub, chip shop and beach shop. Carreglwyd is exclusively 'families only', so there's no danger of getting stuck next to a group of didgeridoo-playing hippies, or smacked in the face with one of their juggling balls.
The Bad Bits: The staff seem to have had a pretty rough experience over the years, which has left them a little short-fused when it comes to customer service. This is perhaps why they decided to opt for a 'families only' policy. The shower/toilet blocks aren't exactly the best in the country, but all of this is more than made up for when you take in an eyeful of the ocean views. As they so often say, you can't have it all.
More info on prices and facilties available at their official site > www.porteynon.com
If you have any other Wales camping related questions, let me know! I'm happy to help out. And be sure to comment below with your own thoughts and recommendations. See you at the beach!